LIVING WORLD PERFORMANCES
Cosmopolitan, sophisticated and intriguing, these Live Performance Presentations radiate elegance and possess an astounding beauty.  From complete stage productions to appearances of individual performances, these unforgettable performances fall between the genres of dance, theatre and "Living Art."  Appearing at a host of entertainment settings through out the world, audiences from all cultures are struck by the innovative way the performances connect them to the language of art.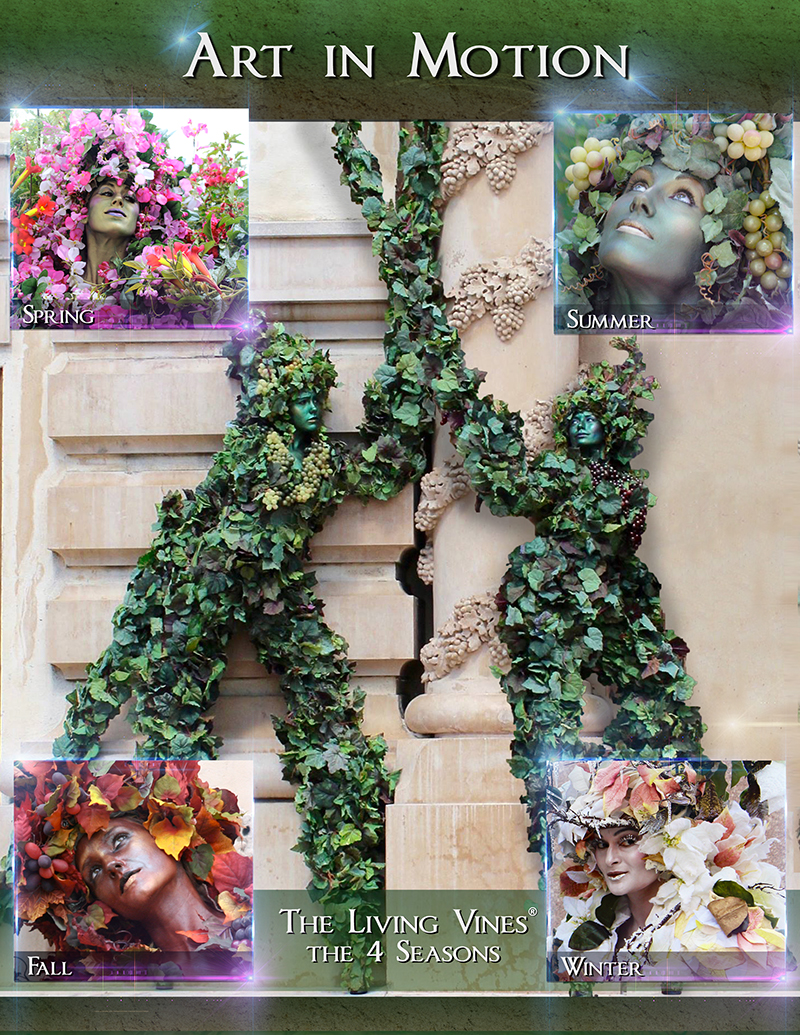 Take pleasure in the splendor of DiVine, and The Living Vines.  Gaze into their world as they gradually come to life in an exquisite transformation from Vine into the awe-inspiring performances of The Living Vines.  Audiences all over the world are mesmerized by their layered lushness and incomparable grace.  The Living Vines offer you the unique grasp of the secrets and glamour hiding within nature.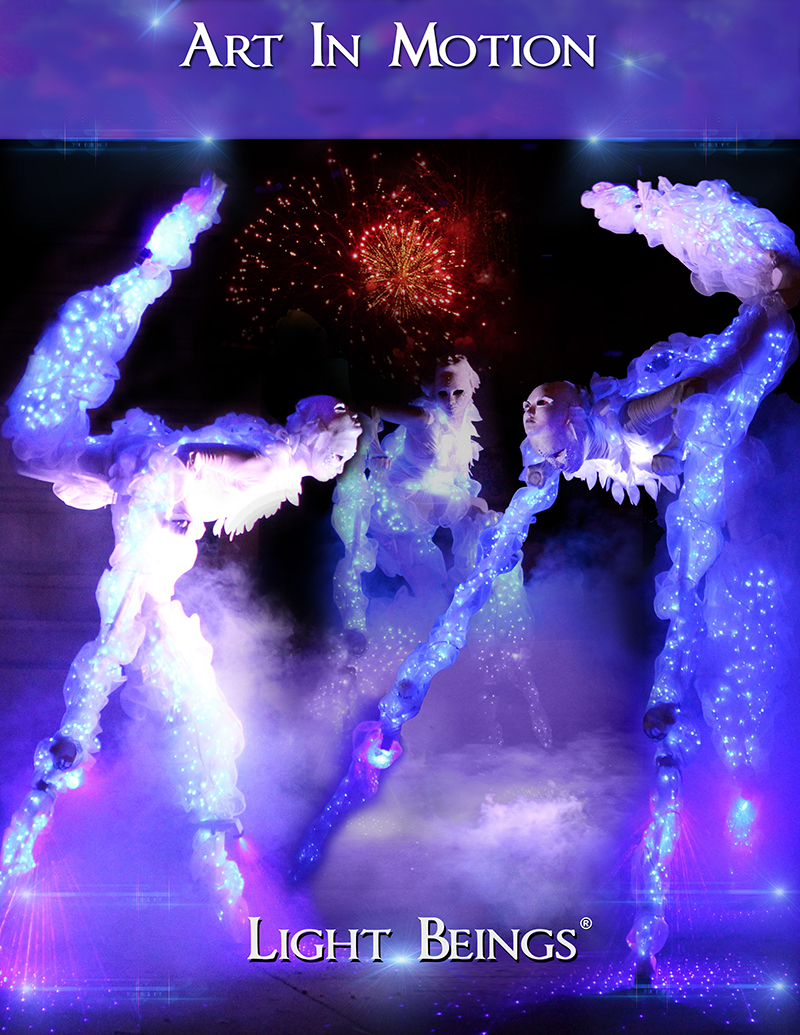 Light Beings®, have been captivating audiences at a host of venues throughout the United States. Illuminated by beautiful blue LEDs or our NEW multicolored LEDs the stilted Light Beings are conceived as entities from another world. Each Light Being uses 3 masks to portray their other worldly personas. Audiences are fascinated by the enigmatic way in which the Light Beings shift seamlessly from character to character. 6 Light Beings® with Blue LED's and a white heart light can be present at any one event. Blue and red LEDs alternate with gold and green lights. Up to 2 multicolored Light beings can be present at any one event.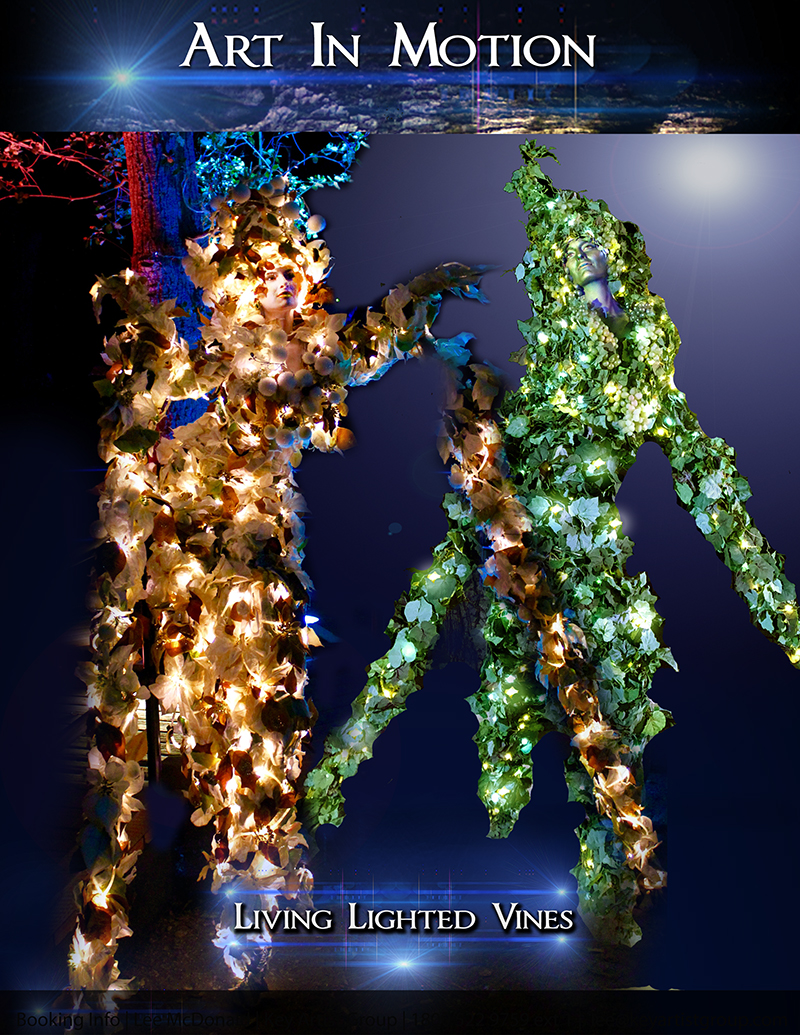 Beautiful Lighted Living Vines illuminated with LED lights illuminate any festive occasion. 
The white lighted Winter Vines sets any evening a glow as does our original Living Vine, 'DiVine' mesmerizing audiences of all ages and walks of life.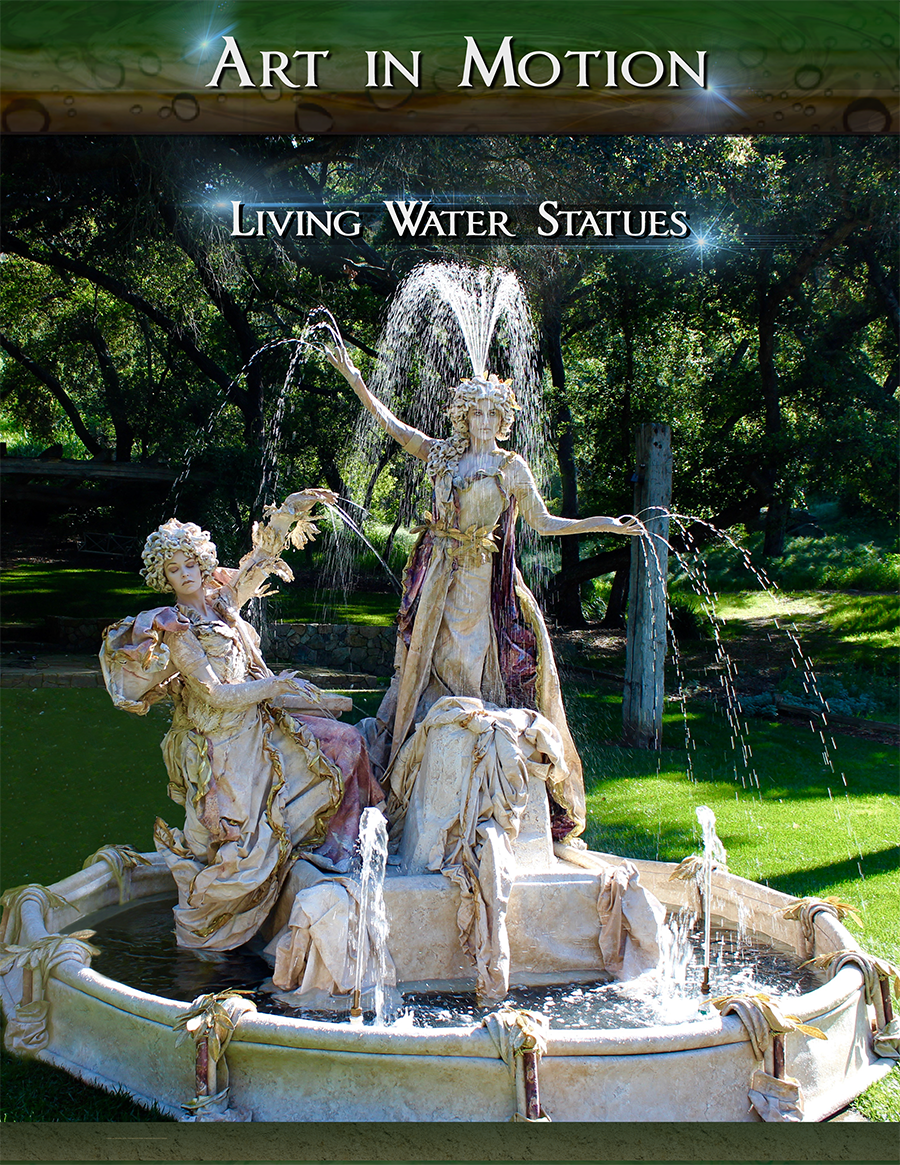 The live performances of our sumptuous Living Water Statues® evokes the glorious sculpture of the Italian Renaissance. Water pours forth from the fingertips of our lovely Living Water Statues® as fountain features from the pool she stands in brings forth dynamic and engaging water displays. The choreographed performances of the Living Water Statues ® can perform solo, as a duet or in groupings of up to three to suit the needs of any event. Their not to be missed stage performance 'Immortals', brings to life other surprise elements in this beautiful and dynamic display of Living Art. Whether in your pool or ours the Living Water Statues® lends beauty and refinement to any entertainment setting.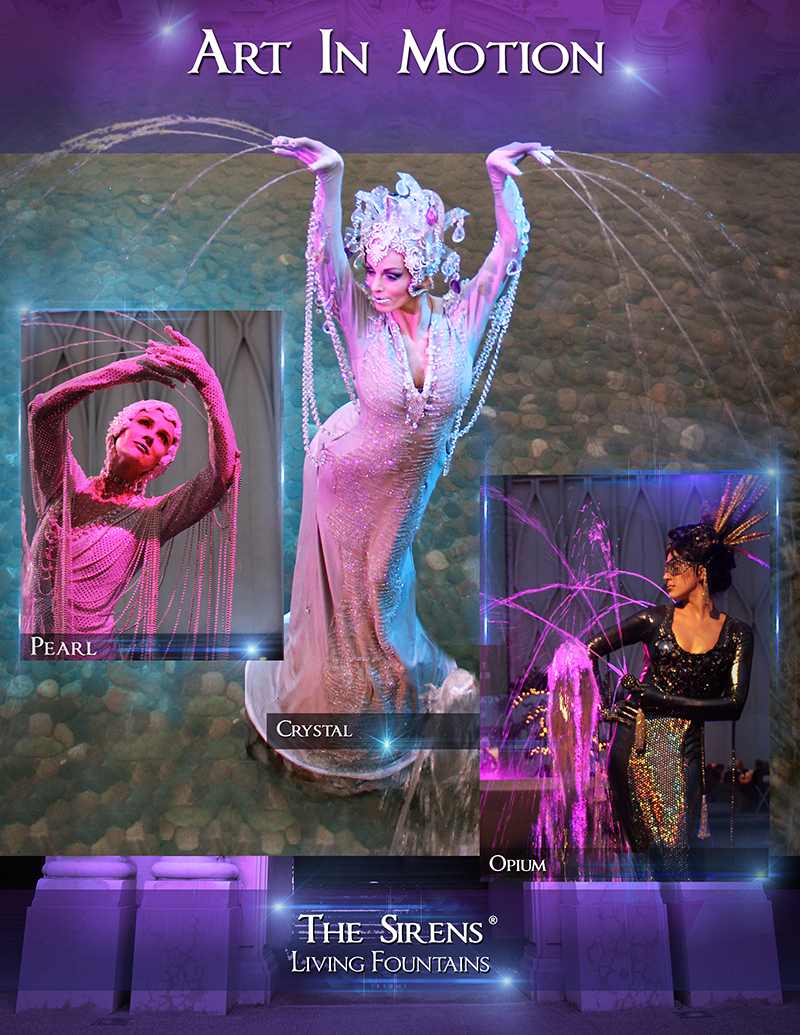 This celebrated selection of captivating women evoke the time honored Sirens of the silver screen. Elegant water features unique to each woman, come to light from their gloved fingers, feminine fans, and heavenly grace. Performances vary from full stage productions, to more intimate pairings, or simply a rendezvous with one. The elongated style lines and gorgeous silhouettes of Slither, Pearl, Opium, and Crystal is a performance of uncompromising seduction, married to abandoned poise, uptown sophistication, and innate glamour.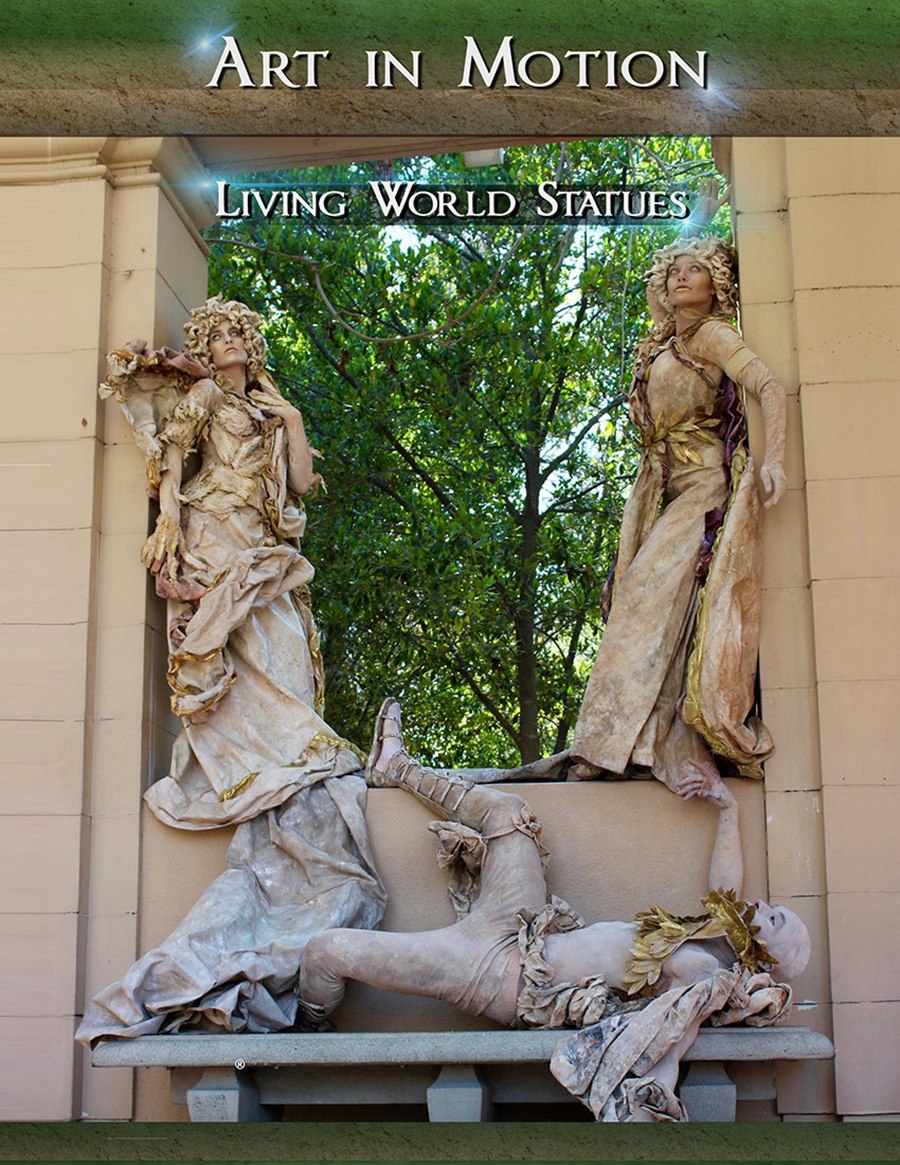 Perfectly suited to many types of special events, our amazing Living Statues can be enjoyed by guests in a variety of venues. Our Living Statues also work seamlessly with our Living Vines, together creating many breathtaking tableaus. People of all cultures and generations admire and appreciate our dynamic works of living art.
Nothing could be prettier than the lovely butterflies resting in the foliage of The Living Vines. Monarch Butterflies grace the lush green leaves of The Summer Living Vine. The Iridescent hues of the Blue Morpho Butterflies against the stunning spring flowers of the Spring Living Vine charm the eyes of the audience. Together they make marvelous magic, dazzling, delightful and enchanting.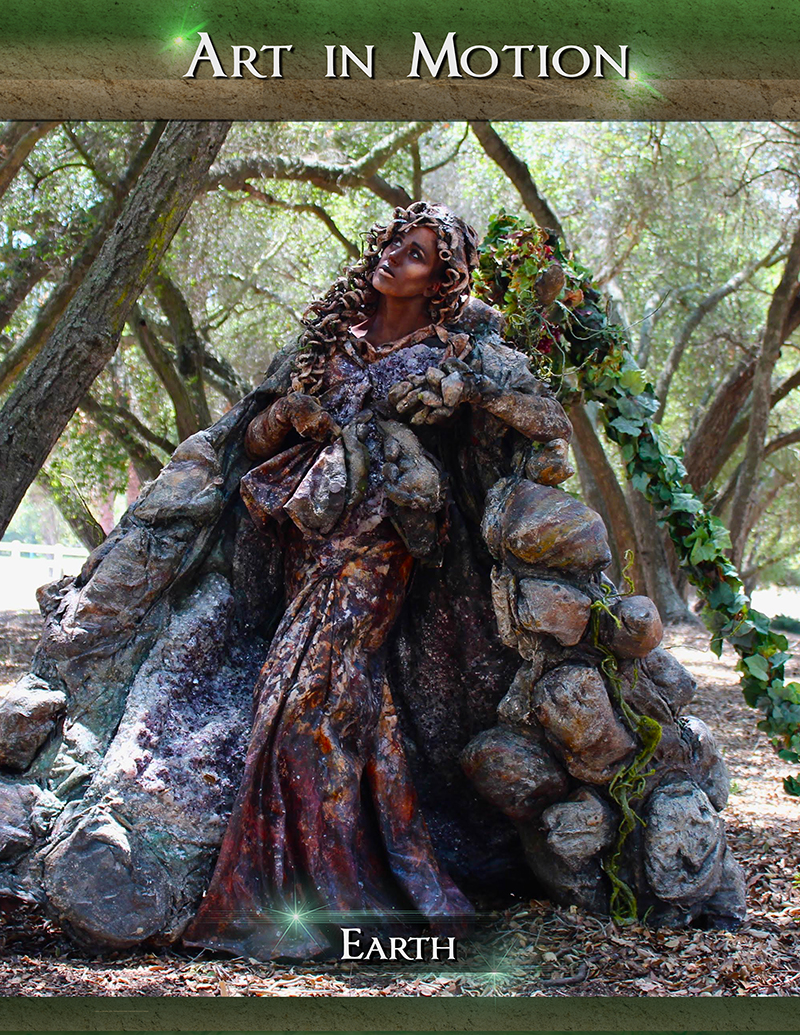 In her magnificent cape encrusted with amethyst crystals, Earth rises slowly up from the ground. Revealing herself to be a living entity she engages Living Vines and interacts with those around her before she returns to the earth unseen once more.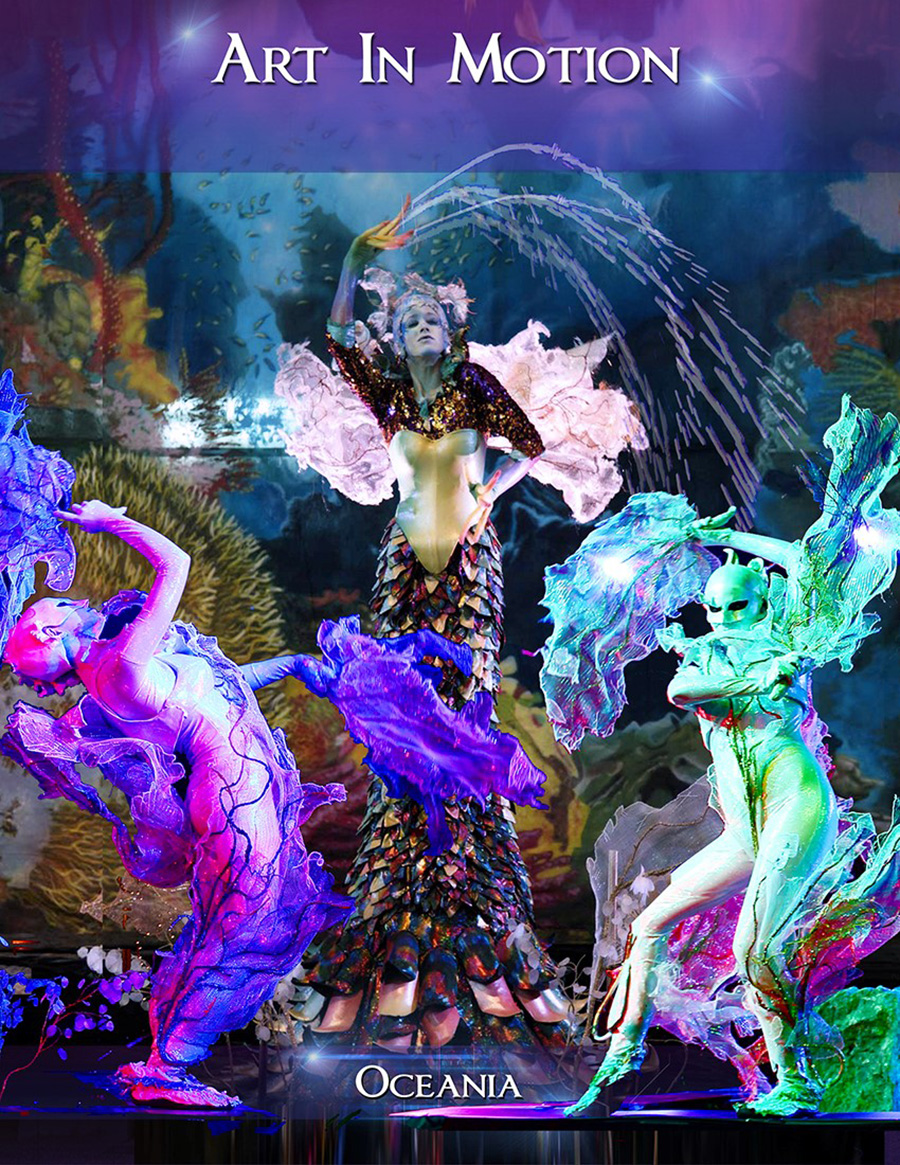 Two swirling Sea Fan Women call forth an enigmatic "Mer" creature from the shadowy depths of the sea. Together they discover the presence of the powerful Oceania. Water emerges from her elongated fingertips as she commands the water around her to rise. Stand back as this 8 ft tall, mystery borne, mistress of misrule returns from her state of exile.
BAMBOO – Protector of Nature. An enigmatic entity dwells harmoniously within the bamboo growing around him. Seamlessly camouflaging with his environment, BAMBOO moves on 3ft stilts. Evoking the mystical aspects of martial art forms, BAMBOO strikes a powerful and commanding presence. Best suited as an installation for mid to long term engagements.